| | |
| --- | --- |
| | Excel to Tally : How to Activate Global List of Ledger Accounts for company opened in Tally? |
Do entries in Excel using Global Ledger List
You can use "List of Ledger Accounts" of Tally7.2 / Tally9 / Tally.ERP9 globally anywhere across the softwares, like MS Excel, MS Word etc. Just press ~ (Tilde) key & list will appear for selection. And you can select ledger name from the list very efficiently to avoid spelling mistakes & speedup your work. Just follow steps given as:
1. Open Tally & Select Company in Tally
2. Open EazyAUTO4 & Select Company Opened In Tally
3. Click on "Activate LedList in Excel" then click "Exit" & minimize EA4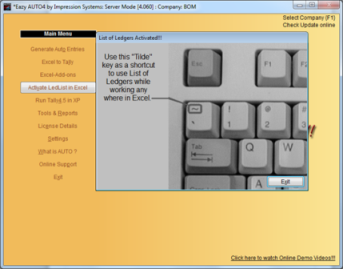 1. Open your desired application like MS Word or MS Excel
2. Press ~ key on keyboard for List of Accounts
3. Select desired ledger & press enter.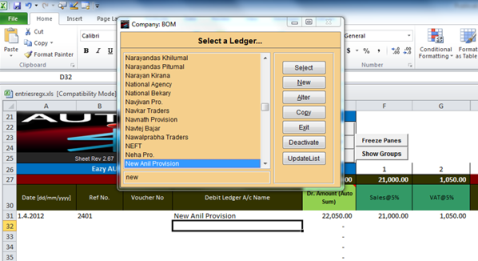 * You may copy this list to memory by clicking "Copy" button on list and paste to excel.